RECENT AIRCHECKS
OF THE WEEK...
(Contributors in brackets)
February 19
Wolfman Jack
CJCH, December 5, 1976
(Bill Dulmage)

February 12
Alison Steele
WNEW-FM, February 11, 1969
(Don Shuttleworth)
February 5
Mr. Vee
WGRT, February 11, 1972
(Don Shuttleworth)

January 29
Russ Thompson
CKFM, February 5, 1979
(Bill Dulmage)

January 22
Frank Brodie
CKLW, January 25, 1970
(Tom Howard)

January 15
Scott Miller
CKLW-FM, January 14, 1987
(Don Shuttleworth)

January 8
Clark Weber
WLS, January 3, 1969
(Don Shuttleworth)

January 1
Ron O'Brien
WCAR, December 31, 1971
(Bill Dulmage)
WGRQ preview and sign-on
(Dan Haber)

December 25
An Old-Fashioned Christmas, Pt. 6
audioldies.net, 2011
(Sam Ward)

December 18
Larry Douglas
CJOE, December 30, 1971
(Charlie Ritenburg)


CANADA'S AIRCHECK ARCHIVE
- Since October 29, 1996 -

Now with 1,111 audio exhibits




Scrapbook

In words, sound and images...
The Golden Age of Top 40 Radio


Enjoy the Aircheck of the Week

AIR

CHECK OF THE WEEK

Now in both Real Audio and MP3



Edition #926
February 26, 2017




BOOGIE BELL
KIMN DENVER
FEBRUARY 26, 1962 (PT. 2)

Let's boogie with Boogie Bell!
Glen "Boogie" Bell jocked at the legendary KIMN from 1958 to 1963. The Denver station practically owned its market, with a 56 share at one point. These were the golden years of Top 40 radio on AM radio - FM was barely on the radar - and a rock 'n' roll station that appealed to adults as KIMN did was pure ratings gold. The teens went to KIMN for the music and the wacky deejays; the adults liked the sensational newscasts. The result was a Top 40 radio colossus.

Enjoy Boogie Bell on KIMN from February 26, 1962, Pt. 2, (UNSCOPED) ... in the Aircheck of the Week!

Thanks to Don Shuttleworth for this great aircheck!


---

Rock Radio Scrapbook pays music licensing fees to the Society of Composers, Authors and Music Publishers of Canada (License 22-F)
---
ROCK RADIO HISTORY
... IN SOUND




Rock Radio Airchecks: The '50s & before



Rock Radio Airchecks: The '60s



Rock Radio Airchecks: The '70s



Rock Radio Airchecks: The '80s



Rock Radio Airchecks: The '90s & beyond



Rock Radio Airchecks: Jingles



Rock Radio Airchecks: Christmas



Rock Radio Airchecks: Halloween
---
ROCK RADIO HISTORY
... IN WORDS




Rock Radio Articles



Rock Radio Almanac



Rock Radio Jive



Rock Radio Quotes



Rock Radio Stories



Rock Radio Changes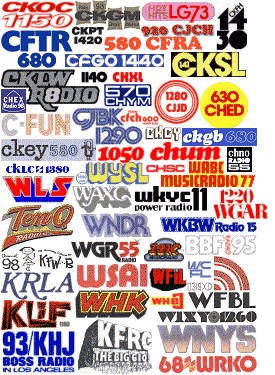 Returning soon!
---

Written, researched and produced by
DALE PATTERSON


Now in our 21st year online

CHOSEN AS A SPOTLIGHT SITE BY




AS FEATURED IN




One moment they were here, the next they were gone. Great stations, legendary deejays faded into the ether, seemingly forever.
But wait! That great radio lives again right here at Rock Radio Scrapbook. The unforgettable stations like CHUM, CKLW, CKEY, CKFH, CFTR, 1470 CFOX, CKGM, CJMS, CFUN, CKRC, FM 108, WKBW, WGR, WLS, WABC, KHJ and so many others can be heard and read about here.
Enjoy legendary deejays like Alan Freed, Hound Dog Lorenz, Jackson Armstrong, Robert W. Morgan, Hunter Hancock, Cousin Brucie, Dan Ingram, Dick Biondi, Wolfman Jack, Al Boliska, Jay Nelson, The Real Don Steele, Tom Rivers, Brian Skinner, Marc Denis, Red Robinson and many others. Also here: the history, the lineups and the stories of a great radio era now gone but fondly remembered.
First, read a little about this site and then explore this tribute to a great radio era. You can also discuss radio - old and new - at our Facebook page.
Thanks for placing Rock Radio Scrapbook on your cyber-bookshelf! And enjoy our Top 40 treasure trove!
---

Get a PREVIEW of the Aircheck of the Week every Friday on Rock Radio Scrapbook: Inside Edition, our official Facebook page.
---
Want to link to the Scrapbook?
Here are a couple of buttons for you...


---
"The radio craze ... will soon fade."

Thomas Edison, 1922
---
ROCK RADIO SCRAPBOOK
Canada's Aircheck Archive
© 1996-2017
Your e-mails are welcomed here.