RECENT AIRCHECKS
OF THE WEEK...
(Contributors in brackets)
August 6
Jimmy Darin
CKY, August 12, 1965
(Charlie Ritenburg)

July 30
Dave Shafer
June 7, 1967
(Charlie O'Brien)

July 23
Johnny Barrett
WKBW, July 24, 1961
(John Troll)

July 16
Soundathon #14, Pt. 1
CFUN Vancouver
(Jim Bower)

July 9
Hal Raymond
WDGY, July 9, 1964
(Bill Dulmage)

July 2
Burt Thombs & Gene Stevens
goldandgreatrevival.com, January 20, 2004
(Rob Muir)

June 25
Marc Denis
Q-92 (CFQR), July 21, 2007
(Marc Denis)

June 18
Ted Richards
CKLW, June 29, 1973
(Charlie Ritenburg)

June 11
Bob Lewis
WABC-FM, June 1967
(Scrapbook archives)

June 4
George Hamberger
CFTR, June 9, 1980
(Tom Konard)
May 28
Roger Ashby
CHUM, May 27, 2007
(CHUM Archives/Doug Thompson)
May 21
J. Michael Wilson
CHUM, June 9, 1970
(Bill Dulmage)

John Rode
CILQ-FM (Q-107), May 22, 1977
(Bill Dulmage)


CANADA'S AIRCHECK ARCHIVE
- Since October 29, 1996 -

Now with 1,156 audio exhibits




Scrapbook

In words, sound and images...
The Golden Age of Top 40 Radio


Enjoy the Aircheck of the Week
AIRCHECK OF THE WEEK
Edition #950 - August 13, 2017
WINK MARTINDALE
WHBQ Memphis
August, 1956
Forty years ago this week we got the stunning news: The King was dead.
Elvis Presley died August 16, 1977 at his Graceland estate in Memphis. He was only 42. No solo artist had more #1 hits in the rock era than Elvis, and he was unsurpassed in charted records, Top 40 hits, Top 10 hits and most weeks at #1. But more than that he was an icon - a musical artist whose appeal never seems to fade. This week we have collection of interview tapes Wink Martindale presented to his WHBQ audience in 1956 when Elvis was just emerging as a star. Enjoy!

Hear Wink Martindale and his guest Elvis Presley on WHBQ from August, 1956 (UNSCOPED) ... in the Aircheck of the Week!
Thanks again to Bill Dulmage for this great aircheck!


---

Rock Radio Scrapbook pays music licensing fees to the Society of Composers, Authors and Music Publishers of Canada (License 22-F)
---
ROCK RADIO HISTORY
... IN SOUND




Rock Radio Airchecks: The '50s & before



Rock Radio Airchecks: The '60s



Rock Radio Airchecks: The '70s



Rock Radio Airchecks: The '80s



Rock Radio Airchecks: The '90s & beyond



Rock Radio Airchecks: Jingles



Rock Radio Airchecks: Christmas



Rock Radio Airchecks: Halloween
---
ROCK RADIO HISTORY
... IN WORDS




Rock Radio Articles



Rock Radio Almanac



Rock Radio Lineups



Rock Radio Jive



Rock Radio Quotes



Rock Radio Stories



Rock Radio Changes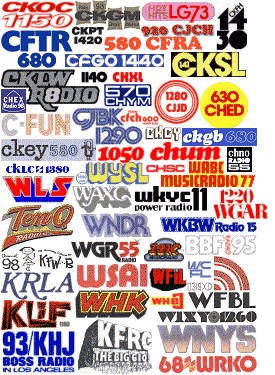 NOW ONLINE!!!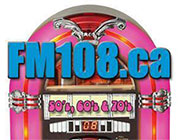 THE OFFICIAL RADIO STATION
OF ROCK RADIO SCRAPBOOK
---

---
Written, researched and produced by
DALE PATTERSON

Now in our 21st year online

CHOSEN AS A SPOTLIGHT SITE BY




AS FEATURED IN




One moment they were here, the next they were gone. Great stations, legendary deejays faded into the ether, seemingly forever.
But wait! That great radio lives again right here at Rock Radio Scrapbook. The unforgettable stations like CHUM, CKLW, CKEY, CKFH, CFTR, 1470 CFOX, CKGM, CJMS, CFUN, CKRC, FM 108, WKBW, WGR, WLS, WABC, KHJ and so many others can be heard and read about here.
Enjoy legendary deejays like Alan Freed, Hound Dog Lorenz, Jackson Armstrong, Robert W. Morgan, Hunter Hancock, Cousin Brucie, Dan Ingram, Dick Biondi, Wolfman Jack, Al Boliska, Jay Nelson, The Real Don Steele, Tom Rivers, Brian Skinner, Marc Denis, Red Robinson and many others. Also here: the history, the lineups and the stories of a great radio era now gone but fondly remembered.
First, read a little about this site and then explore this tribute to a great radio era. You can also discuss radio - old and new - at our Facebook page.
Thanks for placing Rock Radio Scrapbook on your cyber-bookshelf! And enjoy our Top 40 treasure trove!
---

Get a PREVIEW of the Aircheck of the Week every Friday on Rock Radio Scrapbook: Inside Edition, our official Facebook page.
---
Want to link to the Scrapbook?
Here are a couple of buttons for you...


---
"The radio craze ... will soon fade."

Thomas Edison, 1922
---
ROCK RADIO SCRAPBOOK
Canada's Aircheck Archive
© 1996-2017
Your e-mails are welcomed here.